My redesign has to start in the kitchen because the kitchen is the heart of every home and, in mine, it's also the center of the house, from which all the other rooms radiate. Up until a month ago, we were really seeing red. It looked good but I need a change, so I'm going with the colors I've set in this blog and also in my
flickr group
- black, white, gray, beige and leafy greens.
By changing the small appliances and decorations first, I can see what it will look like and whether that's where I want to go with it. So far so good. Replacing the little stuff has been bliss and the husband has no complaints because he got a new coffee maker and blender out of it. I asked him today if we could get a new refrigerator and he said NO, rather vociferously. You see, it's good to ask for really expensive things along the way because it conditions them. Later I said, "How about a new hood for the cooktop?" and right away he said, "That I can afford." See? He'll be even happier when I actually get the paint brushes out.
I'm debating colors still. What I have now is dark white trim with warm creamy-beige walls. They're beautiful but if I go a crisper cleaner newer white, I can pull the house into the 21st century and do that
new traditional
thing with my old traditional (read: expensive) furniture. We'll see. We'll see. Maybe the lower cabinets black? The island is now vivid red with a thick butcher block top. I've got these great steampunk stools that are black iron. The stools will disappear if I paint the island black, so maybe it should go gray. hmmmm
It all starts here.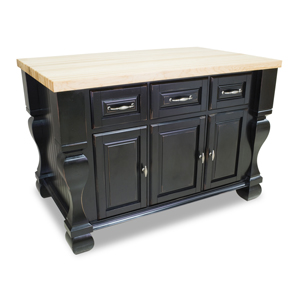 See more:
Nautical Nantucket Kitchen